Frequently Asked Questions
Product Specific
Nihon products are safe during pregnancy and breastfeeding, except for those containing retinol. Kindly avoid using products with retinol during pregnancy to ensure your well-being and that of your baby.
Our products are formulated by dermatologists from both Japan and Malaysia, combining the best of Eastern and Western skincare knowledge. While our roots are deeply connected to Japan, we proudly manufacture all our products locally in Malaysia. This allows us to ensure the highest quality standards and maintain a close relationship with our NIHON family.
All of our products are 100% free from any animal-based ingredients, assuring you of the halal compliance. Your trust in NIHON is vital to us, and we are committed to upholding the highest standards of halal certification to meet your needs and preferences.

Specifically, NIHON Tripeptide Barrier Essence is halal certified by MUI (Indonesia's halal certification board).
There are generally no side effects under normal conditions of use when applying NIHON products. However, some users may experience mild redness or itchiness depending on individual skin sensitivities. To ensure compatibility, conducting a skin patch test before using the product is advisable, especially if you are aware of any skin sensitivities.
If you experience severe redness, itchiness, or a burning sensation, discontinue using the product immediately and consult a dermatologist. If you are sensitive to any ingredients listed on the product label, please refrain from using it.
For any concerns or questions, feel free to reach out to us on Instagram or Facebook, or you can contact us via WhatsApp at +6017 708 8373.

Yes, NIHON sunscreen has been tested in a sun protection clinical test based on the new ISO24444 and ISO24442 in Korea in December 2021. The test results confirm our sunscreen meets the SPF 50 claim and PA+++ rating. The expected SPF is 50, and the expected UVA-PF is 8, both validated by the clinical test.

Here's the lab certification for NIHON Sunscreen's SPF50 claim.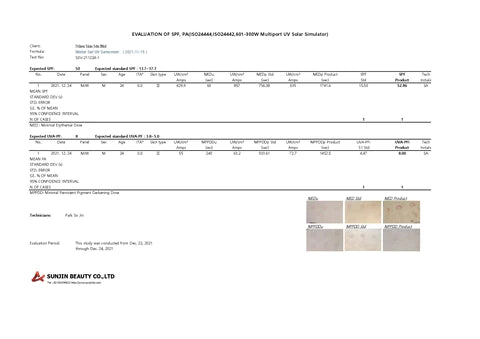 Payment and Purchase Gateways
The steps to purchase products on the NIHON website are as follows:
Step 1: Browse and shop for your desired item(s) from the available product selection.

Step 2: Click on the product to view its details and add it to your cart.

Step 3: Review your order summary in the cart and proceed to the checkout process.

Step 4: Provide the necessary information, including your customer details, shipping address, and select your preferred shipping method.

Step 5: Choose your payment method, which may include options such as eGHL or Shopback.

Step 6: Once the payment is successful, you will receive an order confirmation and a thank you note.

Following these steps will enable you to complete your purchase smoothly and have your chosen NIHON products delivered to your doorstep. If you encounter any issues or have questions during the process, don't hesitate to contact NIHON's customer support team for assistance.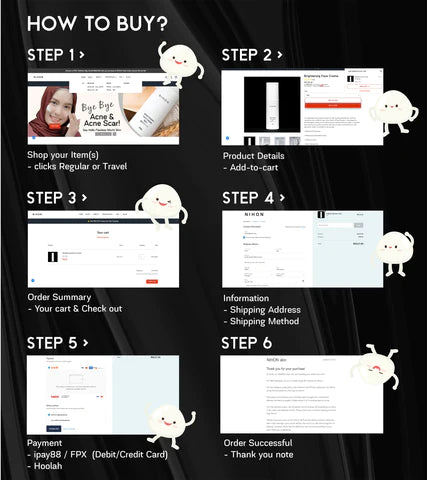 We offer a variety of convenient payment methods for online shopping at NIHON:

Credit / Debit Card (Visa and Mastercard)
We accept all Malaysian and international Visa and Mastercard credit and debit cards with 3D secure (Verified by VISA and Mastercard secure), except cards from the USA, Canada, Brazil, Costa Rica, Argentina & Australia.

Internet Banking
You can make payments using Internet banking from all local Malaysian banks. Simply choose your bank from the list of available options during checkout, and you will be redirected to your bank's online banking login page to complete the transaction.

E-Wallet (Boost, Grab Pay, Shopee Pay & Touch N Go)
We support digital e-wallet payments, including Boost, Grab Pay, Shopee Pay & Touch N Go. Select your preferred e-wallet during checkout, and you will be redirected to the platform of your choice to complete the payment.

Shopback (Interest-free Installments)
Enjoy three months of interest-free instalments from local Malaysian banks with debit or credit cards. Pay 1/3 of the price upfront upon checkout with Shopback, and we will deliver your order. The 2nd and 3rd instalment payments will be automatically deducted from your debit or credit cards with no interest.

With these payment options, we aim to provide you with a seamless and secure shopping experience. Should you have any questions or need further assistance, our customer support team is always ready to help. Happy shopping with NIHON!
In addition to our website, we have expanded our presence to several online platforms, offering you more choices and flexibility.

You can find NIHON products on the following platforms:

Shopee: https://shopee.com.my/nihonskin
Lazada: https://www.lazada.com.my/shop/nihon
TikTok: https://www.tiktok.com/@nihonskin
Zalora: https://www.zalora.com.my/store/nihon-skin

You can also opt for offline shopping at our physical store locations. Locate the nearest store by checking our store locator link: https://nihonskin.com/pages/watson-stores-locations. Our dedicated team at the offline stores will assist you in person with whatever you need!

Shipping & Delivery
For shipping and delivery in Malaysia, please keep the following points in mind:

Accurate Shipping Address: Ensure your shipping address is accurate, as amendments cannot be made after your order number is generated.

Processing Time: We strive to prepare and dispatch your orders as quickly as possible. Orders are packed and shipped from Monday to Friday, excluding weekends & public holidays.

Shipping Duration: The shipping duration varies depending on your location. Please refer to the current photo on our website's FAQ for specific details.

Peak Periods: During peak periods, there may be slight delivery delays due to the high volume of orders, transactions, and availability issues. We appreciate your patience during such times.

Third-Party Courier: We utilize third-party courier services for deliveries. While we hope for timely arrivals, unforeseen delays may occur beyond our control. We will take necessary actions to ensure prompt delivery.

Shipping Confirmation: Once your order is shipped, you will receive an email and/or SMS from our courier partner with a tracking link for your parcel. If the tracking link does not work, please contact us at support@nihonskin.com for your tracking number.

Rest assured that we are committed to ensuring a smooth shipping and delivery process for all our customers in Malaysia. If you have any questions or need further assistance, you can reach out to our support team.
Yes, NIHON provides worldwide delivery to various countries, including Singapore, Brunei, Taiwan, United Kingdom, Germany, Egypt, Saudi Arabia, Japan, and more. For customers in Brunei and Singapore, you can proceed with the purchase directly on our website.

For other countries, such as Taiwan, Korea, United Kingdom, Germany, Egypt, Saudi Arabia, Japan, etc., please provide us with your full address and the products you wish to purchase. We will calculate the shipping fee and guide you through the purchasing process.

Keep in mind that taxation is subject to your country of residence, and additional taxes may apply. If you encounter any difficulties with the shipping or delivery address, please feel free to contact us at support@nihonskin.com or reach us via WhatsApp at 0177088373.
Unfortunately, we cannot accommodate requests for changing the courier according to individual preferences. We have established a reliable courier partner to ensure efficient deliveries for all our customers. However, if you have any specific shipping instructions or concerns, please let us know, and we will do our best to assist you within the scope of our current courier arrangements. Your satisfaction is essential to us, and we strive to provide the best service possible!
In the unfortunate event of a product stock shortage, we will do our best to deliver your order within 7 working days. If the delay is significant, we will inform you through email and social media announcements. Should the delay exceed 7 working days, you have the option to request a cancellation of your order by contacting us at support@nihonskin.com, and you will be refunded accordingly.

Similarly, if a free gift is out of stock, we may ship your order as partial without the gift. However, please note that gifts will be provided while stocks last, and announcements regarding such matters will be made on our social media accounts.
Return/ Exchange/ Refund
NIHON Loyalty Program
NIHON's loyalty program is a special initiative designed to reward our valued customers with exclusive discounts and offers as they accumulate points. As a loyalty program member, you can earn points every time you make purchases or engage with us on social media. These points can be redeemed for exciting rewards, making your shopping experience with NIHON even more rewarding.
You can earn points by completing various actions, and the current earning options are displayed in the FAQ section on our website.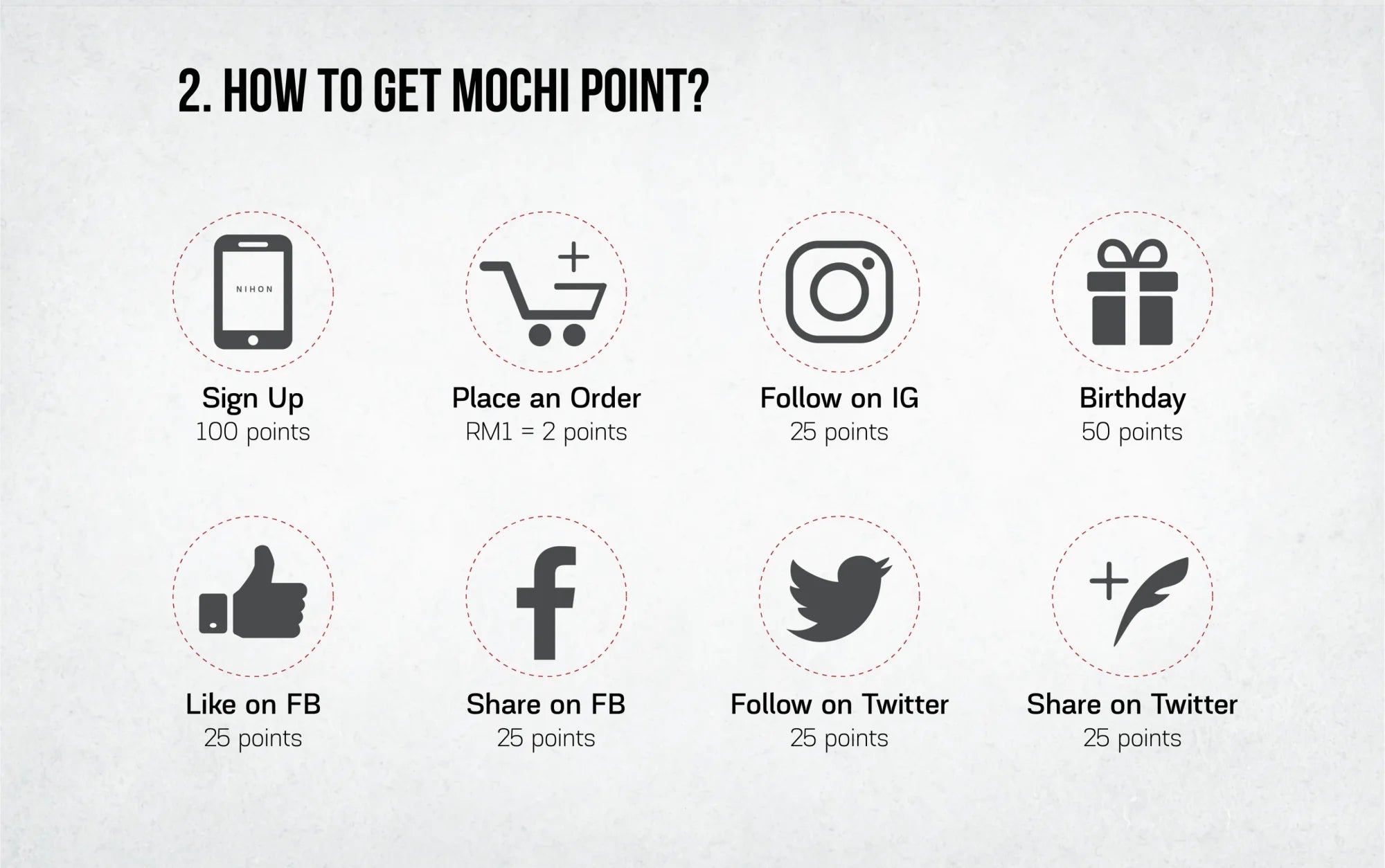 To redeem points, simply use any of the offers listed in the FAQ section on our website.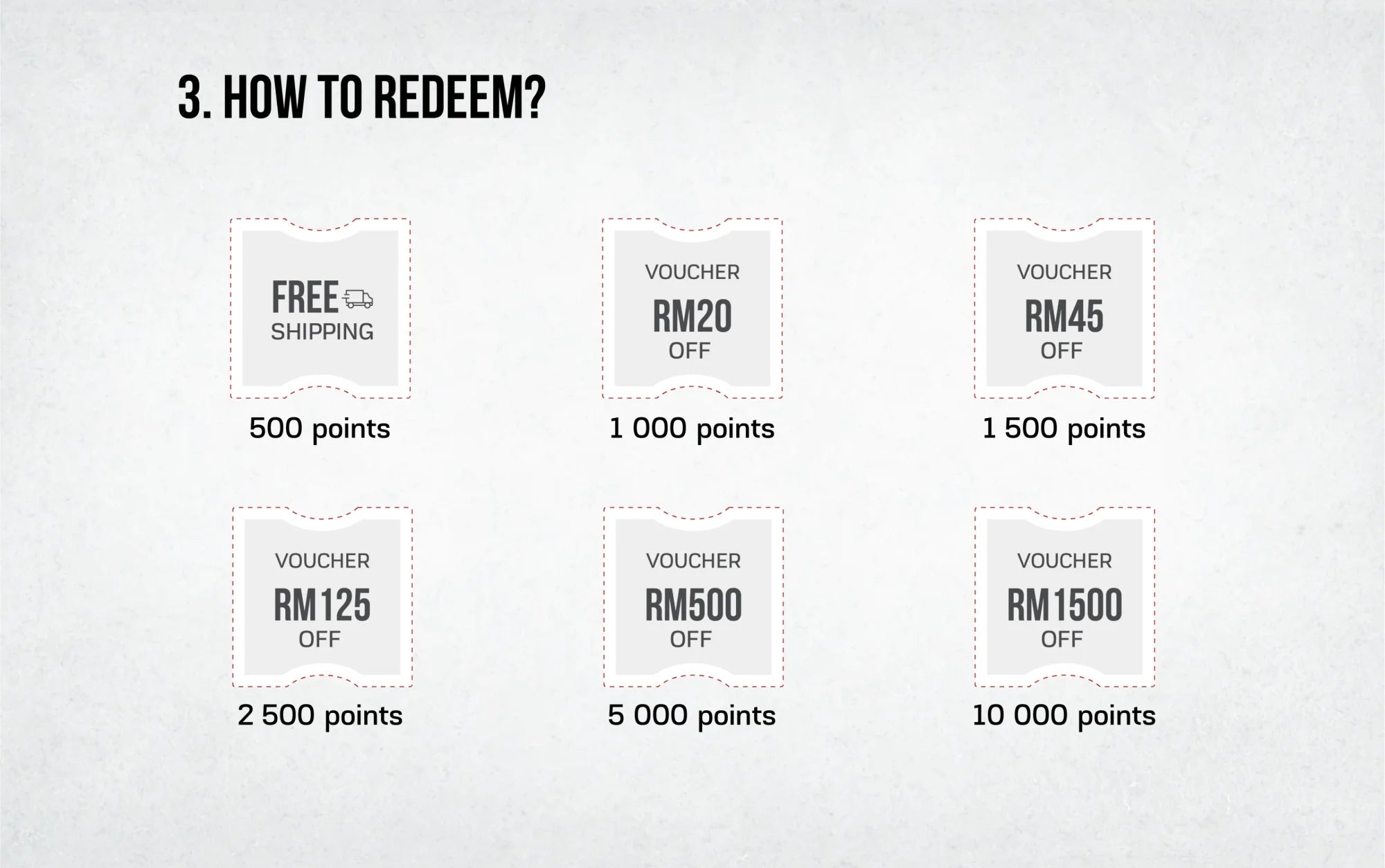 The reward coupon code you receive through the loyalty program is a ONE-time use code. It expires after being used for a single purchase.
Unfortunately, no. At this time, you can only choose one code at checkout. Multiple reward coupons cannot be usreward coupon code be used simultaneously with a promotion code.
No, there is no minimum spend required to use the offers you redeem through the loyalty program.
We thank you for being a part of NIHON family! However, points are eligible only for orders placed starting from September 16th, 2022 (tentative) and onwards. Past orders do not earn points.
Anyone and everyone! All you need to do is sign up for an account to start earning points.
Yes, if you have not earned or spent points for one calendar year (365 days), your points will expire and disappear.
Simply log in to your account and click on the top of the Rewards Pop-up box to check how many points you've earned.
Don't worry, sometimes it takes a few minutes for our system to process and apply points to your account. If you still don't see the points after 24 hours, please reach out to support@nihonskin.com, and we'll be happy to help!
Any points associated with the order will be deducted from your account balance.
No, you would be enrolled only when registering with the loyalty program.
Once loyalty points are redeemed, they are generally non-refundable. The redemption process is typically considered final, and the points cannot be reversed or returned to your account. However, you can use the code at any time you prefer. You can utilise your points whenever it suits you best. Terms and conditions apply.
We're here to help! Feel free to email us at support@nihonskin.com, and we'll get back to you with a solution as soon as possible!
In NIHON's loyalty program, the points work like a real-time wallet system. Let's break it down with an example:

When you join the loyalty program, you receive a welcome bonus of 100 points.
If you purchase our mochi skin set worth RM 459, you earn 918 points (1 RM = 2 points), adding to your total points balance.
Your total points balance will now be 1018 points (100 welcome bonus points + 918 points earned from the mochi skin set purchase).
If you redeem 1000 points for RM 20 off, you will have 18 points left in your account.
For subsequent purchases, you can use the unlocked discount coupon of RM 20 off, and for every ringgit spent on your 2nd order, points will be credited to your account again.

Remember, the more you shop, the more points you earn, and the more rewards you can enjoy on your skincare journey with NIHON. Happy shopping!
Customer Enquiries
Our customer support team is available to assist you every day from 9 am to 6 pm. You can contact us through various channels:

WhatsApp: 0177088373
Call: 0355431300
Email: support@nihonskin.com
Direct Message: Instagram / Facebook @nihonskin

Feel free to contact us with any questions or concerns, and we'll be happy to help you. Please note that any inquiries received after 6 pm will be attended to promptly on the next business day.
For marketing, partnership, corporate, and any other business inquiries, please reach out to us at corporate@nihonskin.com. Our team will be delighted to assist you with any business-related matters.
Referrals and Promotions
The "Give RM10, Get RM10" promotion allows you to earn RM10 for every friend who uses their RM10 voucher on a minimum order of RM120 and above. When your friend makes a purchase, you will also receive RM10 as a reward.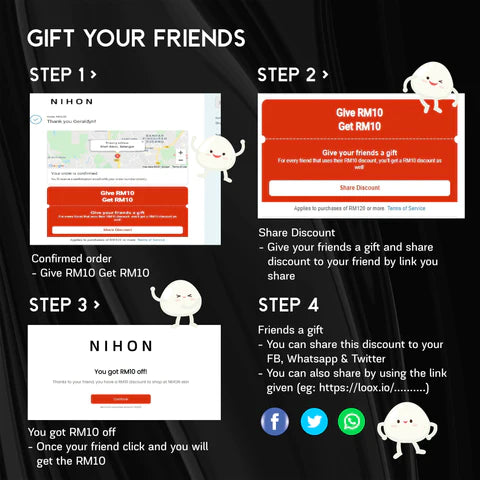 Each of our platforms offers different promotions, and as a result, you will receive promotions based on the platform through which you made your purchase. The offers and deals may vary across different platforms. If you have any questions or need further assistance, please feel free to reach out to us.
Please note that only one discount is applicable per transaction. If you are already eligible for an ongoing promotion or discount, you cannot use an additional discount code for the same purchase. However, don't worry; you can use your discount code on your next purchase. Terms and conditions apply. If you have any other inquiries, please feel free to contact us for assistance.